Certificate of Recognition
BRT Construction has held a Certificate of Recognition (COR) since 1994, when the program was still relatively new in Alberta. Since then we have had a great deal of success with the program and have retained our certificate in good standing.
The Alberta Construction Safety Association website details very clearly what the COR program is and how a company attains the credential.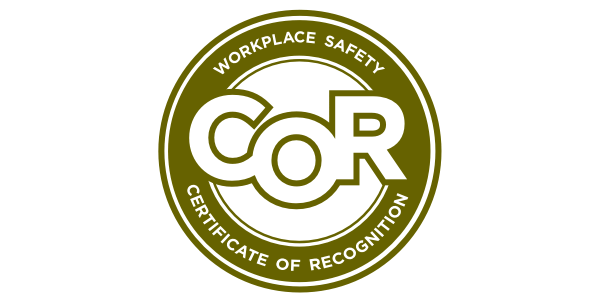 In order to work towards the ultimate goal of an injury and accident-free workplace, we do have a number of additional goals that have been developed as a result of our yearly safety audit.
Initiate a complete review of safe work practices and procedures to ensure that they are up to date and in line with current practices
Increase level of training for use and care of PPE
Improve documentation of 'on the job training' being done by employees
Increase worker involvement in routine inspections
Develop a more comprehensive emergency response plan and initiate drills to test
Safety and Environment Policy
BRT's overall safety goals are summed up in our corporate safety policy which states:
This company is committed to a strong safety program that protects its staff, its property, and the public from accidents.

Employees at every level are responsible and accountable for the company's overall safety initiatives. Complete and active participation by everyone, every day, in every job is necessary for the safety excellence that the company expects.

An injury and accident free workplace is our goal. Through continuous safety and loss control efforts we can accomplish this goal.
— Tim Mack, CEO
BRT Construction Services Ltd. is committed to striking a balance between conserving our environment and completing work in an efficient and effective manner. We always intend on complying with all legislation and it is our goal to manage resources responsibly and reduce our influence on the environment around us. We will strive to continually improve our performance in terms of impact on our surroundings.